NEWS

Take a look at our Crowdfunding-Page and support my Music-Project!
Go to www.startnext.com/en/immanuel-album for more information or click on "Mehr lesen" below.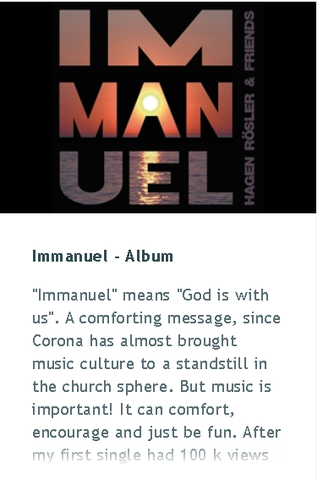 About me / Über mich
Everybody has his own story. What has brought me that far? Read my story, if you want to know.

Alles hat seine Zeit - und seine Geschichte! Wer bin ich? Und wie ist mein Projekt entstanden? Erfahre mehr darüber, was mich hierher gebracht hat - und was ich dabei alles erlebt habe.
Any questions?
You want to know something or are interessted in an cooperation or booking a concert?

Du hast eine Frage oder möchtest mehr darüber erfahren, wie wir zusammenarbeiten können? Du möchtest eine Buchungsanfrage stellen?